Here's the fandamily. The top row are my brothers with my parents in the center. The remaining ladies are introduced species.


| | |
| --- | --- |
| TOP | : Dan, Dave, Me, Dad, Mike, Bob |
| BOTTOM | : Chantelle, Michele, Mom, Reid, Tammy, and Rachelle. |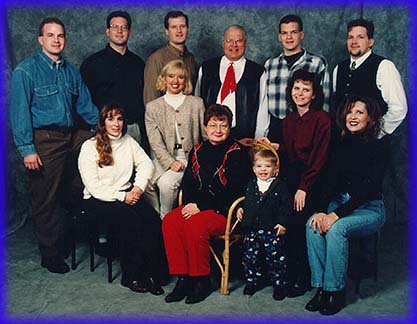 This has become a kind of catch-all for pictures family, friends, and the occasional related tidbit. There's come to be too many pictures here to put on a single page. These pages and pictures are in no particular order and contain Christmas, wedding, baby, and miscellaneous pictures.

| | |
| --- | --- |
| Page 01 | Me, Desi, Bob's wedding, the farm |
| Page 02 | Dave & Michele & Katja, Xmas '97 |
| Page 03 | Dan & Chantelle, Desi, Andrew Rubel, Mike & Tammy |
| Page 04 | Dave & Michele's place, Katie, Bryce, New Year's '98 |
| Page 05 | Bryce, Katja, Pierro & Melinda |
| Page 06 | Dan's wedding |
| Page 07 | Dave/Al/Dan as kids, The Holmgren clan, Dave & Michele, Josh |
| Page 08 | New York pictures |
| Page 09 | John Komlanc's wedding |
| Page 10 | Reid, Katja, Pierro, Melinda, Jenny, Joe & Laura & Hanna |
| Page 11 | Dan and me, Pierro and Melinda, Sandra |
| Page 12 | Central Park jam shots, spring '99 |
| Page 13 | Ed's wedding |
| Page 14 | Xmas '98, Garner & Beth, Lisa & Pat, Al/Al/Lisa |
| Page 15 | A couple farm pictures and some misc. NYC pics |
| Page 16 | Dave and Michele's new acquisitions! |
| Page 17 | A farm fly-over! And some family Xmas pics and a friend or two. |
| Page 18 | Mitch, Puerto Rican day parade, Presidential motorcade, Jeff & Tara |
| Page 19 | Views from my new place! |
| Page 20 | Carmen & Tina, the farm '99, Loretta, M&D's wedding pic |
| Page 21 | Mike and Tammy's wedding |
| Page 22 | Music, Cheshire projects, and Halloween |
| Page 23 | Pictures of Dave & Michelle's brood |
| Page 24 | Some late 1999 and early 2000 pictures, including Scott, Reid, and Kirstie! |
| Page 25 | Dogsledding in Banff, 2000 |
| Page 26 | Skiing in Banff, 2000 |