I like to sing and play guitar. That about sums up my current musical focus. While I like some songs from most genres of music, I'm primarily drawn to classic rock, blues, and rock oriented pop. I have learned or am in the process of learning songs from Otis Redding, Wilson Pickett, BB King, Bob Marley, Jimmy Buffet, The Doobie Brothers, Van Morrison, The Eagles, Garth Brooks, CCR, Jim Croce, The Stones, The Doors, and many others.
At different times in the past I've spent some time playing alto sax, tenor sax, slide trombone, valve trombone, euphonium, flute, clarinet, cello, and piano. Definately a case of "master of none". But I've had fun with all of them.
I've written and recorded several songs in studios ranging from the simplest of basement analog systems to advanced 24 track digital (or direct to hard drive) commercial studios. Lots of fun and good results, but no fame and fortune yet. Methinks that should arrive via FedEx sometime next week.
For a variety of reasons I haven't written anything for quite a while. I'm heading back that direction however and have aquired a small but decent home studio setup to aid in that effort.
I have a number of interesting musical friends in Toronto, Manhattan, Nashville, and Chicago. Makes travelling a little more interesting.
I hope to eventually include some short digitized samples from my better tunes.
The photo below is the last time I had an opportunity to play a decent sax. The other player was kind enough to include me on some practice and a jam later. I didn't kill anyone with my playing but I didn't receive any offers for recording deals either. Oh well.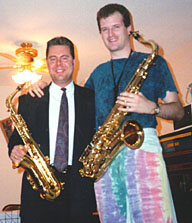 OK... I'm tired of the comments about my jeans. NO, a pen didn't break in my pocket. NO, I did not mix my colors and my whites. NO, I wasn't eating fruit salad and then had an accident. Consider it a style reflective of my personality... OK, fine, so they're stupid.